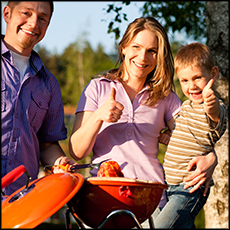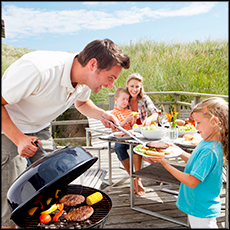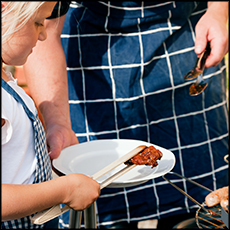 We picked up our first order on Saturday. Had the most delicious eggs on Sunday, and thawed the sirloin tip roast yesterday. Made it in the crockpot today, and let me tell you, it was to die for! We are customers for life … an hour's drive is totally worth it!!! Thanks for your sustainable, responsible, and happy animal farming!
– Deb and Walt
We bought a sirloin tip roast for Easter with wonderful marbling for the cut. Bill was helpful in recommending a piece, and offered some cooking advice.
The roast turned out beautifully, and it was devoured with rave reviews by all. We dry-brined it, seared it in advance, and then cooked it low and slow (250 degrees for 2-3 hours). We let it cook until medium and it was delectable, but I would probably pull it out of the oven when a thermometer indicates medium rare next time to get some more pieces that resembled the supple center.
Best of all, on Easter of all days, we didn't want to participate in the ugliness of factory farming. We were delighted to get a piece of meat that was raised with respect for creation. We'll be back for some more roasts (and some steaks and ground beef). Thanks Bill!
– Tom
Simply the best beef imaginable. Moist, tender and incredible flavor.
– Matt
Thanks again for the beef, it's fantastic!
– Stan
The beef is some of the best ever!
– John
Thank you so much for what you do! We had another exceptional cut of meat tonight. It is wonderful to feel 100% confident in the quality of what I'm feeding my family, thanks again!
– Maggie
We roasted one of your chickens last night and it was absolutely delicious. The taste and texture are both so much better than conventional chicken, or the organic brands from the stores. The eggs are also superb! You are certainly doing the right thing on your farm and I am one very happy customer.
– Laurie
Had steaks tonight, customers for life! Thanks to you and your family for providing such great quality food, we are truly grateful.
– Aaron
We are really enjoying the beef, it has some of the best flavor I've had. We love it!
– Conrad
We've been enjoying both our beef and pork from your farm. The bacon is fantastic!
– Shannon
We just had steak and eggs and it was awesome! The flavor was magnificent, the meat was tender and the eggs were golden and delicious.
– Sue
The beef and pork are absolutely delicious. We are loving it!
– Jim
Purchased half a cow and are so glad we did. Best beef I've ever tasted! Thank you!
– Barb
Just had our first steak from BP Farms and oh my goodness the flavor was absolutely awesome. Already put ourselves on the list for May. Well done BP Farms!
– Sue
We grilled some T-bones for dinner last night and they were the best grass fed steaks we have had in years. You must have some happy cows over there. Thanks!
– Phil
It is so delicious, we are very happy with it. Thank you for such an exceptional product. I am so happy to finally be feeding my family good quality meat. I love this!
– Lori
My wife and I just finished two delicious steaks and wanted to say thanks. This was our first time buying straight from the farm and your quality of product and packaging along with price greatly exceeded our expectations. When our freezer is empty you will be hearing from us again.
– Nick
We had our first pork loin roast for dinner tonight and wow it was good. Very tender and moist. We are so happy with our purchase. We also had some of the sausage and it was excellent. Thanks for producing not only healthy, but delicious food. You have a repeat customer with us.
– Daniel
We all loved your eggs, especially the bright orange yolk just like in my childhood days. We'll be back for more!
– Durjay
Had your rib steaks last night and they were terrific. Thanks again for doing such a good job keeping us well fed. We really appreciate it!
– Laurie
We have been eating the pork and it is excellent. We can absolutely tell the difference in quality from the pork we buy at the store! Thanks.
– Eric
I had your pork chops today and they were the best pork chops I've ever had.
– Jessica
The meat is wonderful! Thank you for delivering such a high quality product! It does not disappoint. Also, I cooked my first chuck roast ever and it was amazing. Love this meat. Thanks again.
– Jenny
Great meat and excellent customer service, you're awesome and the meat is the greatest meat I have tasted.
– Erin
I feel so lucky to have found BP Farms because Bill offers the highest quality meats/eggs that I've ever found. My husband and I have high standards when it comes to the quality of our food, and Bill's products are the very best. Another important note is his beef is grass-fed AND grass-finished, which is sometimes hard to find (or trust). Same with his pork, which is pastured AND organic AND heritage breed! I've never found pork with all 3 of those factors in any health food store… so I'm grateful for the great ongoing service, high quality, and chance to support local farms.
– Sarah
Great local resource for organic meat and eggs.
– Tony
I can't say enough good things about this farm! I drove two hours to this farm and bought beef, chicken, pork and eggs from BP Farm and they all taste amazing! The meat is so rich in flavor and it reminds of the meat that I had when I was a child; the real food!
– W.L.
For more information about organic meat, chicken, pork and eggs from BP Farms, please contact us here. Click here to place an online order for in-stock products. To reserve shares of beef or pork click here.