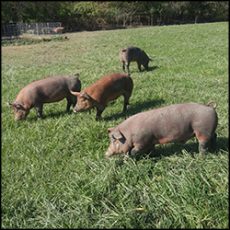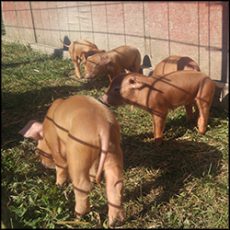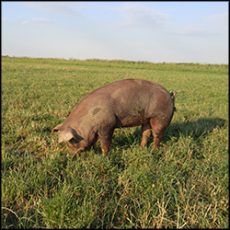 Humanely raised on pasture, our pigs eat only Certified Organic feed that is always non-GMO — resulting in healthy, great tasting pork products.
We raise our heritage Red Wattles pigs without hormones, antibiotics or other medications. All seasonings and cures used in our pork processing are also certified organic. Our pork remains free of artificial preservatives, nitrates, nitrites, soy, gluten or fillers.
We also stock bacon, sausage, ham, chops, roasts, steaks and ribs that can be purchased without pre-ordering. Click here for a full list of in stock products and prices. Click here to order online.
In addition, we offer shares (halves and wholes) of pork year-round. You can reserve a share of one of our pigs anytime, but it's best to get on the list a few months ahead.
Click here to reserve a share. There is no fee for the reservation and no deposit required. When it gets close to the time when your pork will go to the butcher, we'll email you a link to a detailed order form where you can choose how you want it butchered. You can specify your desired quantity of ham, bacon, spare ribs, pork chops, loin roasts, pork steaks, shoulder roasts, picnic roasts, hocks, jowls, and sausage — either bratwurst or breakfast size links, or bulk. You can also choose your seasoning, with choices such as Sweet Italian, Hot Italian, Breakfast, Bratwurst or Andouille.  We also offer ground fat for rendering lard and organ meats.
With all of our animals — but particularly important with pork — use butchers that don't batch process, meaning they do not to mix meat from different farms together. We make sure we get our meat back from our butchers and only our meat.
After butchering, all cuts are labeled, vacuum sealed in clear plastic wrap and frozen. All our pork, both the 'fresh' cuts and the cured cuts, will be frozen when you pick it up.  It can be stored in a zero degrees or below freezer (but preferable not frost free) for up to a year.
For more information about organic meat, chicken, pork and eggs from BP Farms, please contact us here. Click here to place an online order for in-stock products. To reserve shares of beef or pork click here.